After a modern renovation, the 225-seat seafood restaurant has re-opened in New York city. With a focus on sustainability and highlighting local purveyors, they can't wait to have you back to enjoy a dining room that complements historic architecture with contemporary touches.
MARKET FRESH INGREDIENTS
Their modern American seafood menu from Chef Meenan focuses on innovative, market fresh items which are responsibly sourced and sure to please.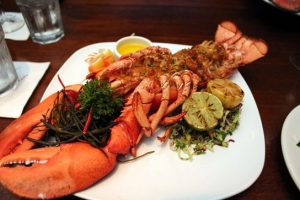 Current Menu;
Seafood Charcuterie Board

tuna pate, octopus bacon, cured salmon, crab croquette

$15.00 (pp)
Crispy Cauliflower

tahini sauce

$13.00
Seafood Tacos*

red cabbage slaw, avocado crema

$18.00
House Burrata Flatbread

corn, bacon

$20.00
MARKET
Charred Broccoli

lemon, Parmigiano

$13.00
Butternut Squash

pomegranate, cilantro, lebne

$15.00
Heirloom Beets

goat cheese, figs

$15.00
Union Square Vegetable Chop

meyer lemon dressing

$17.00
Simple Salad

banyuls vinaigrette

$14.00
Market Soup

seasonal favorites

MP
ROLLS
Union Square Roll

crab, hamachi*, mango, apple

$21.00
Spicy Tuna* Roll

sesame, sriracha aïoli

$16.00
Golden Sunshine Roll

lobster, salmon*, avocado

$18.00
Red Hot Roll

spicy shrimp, tuna*, sambal, crispy quinoa

$16.00
Earth & Sea Roll

shrimp, eel, shiitake, truffle aïoli

$16.00
Metropolis Roll

eel, spicy tuna*, grilled pineapple, cucumber

$16.00
LUNCH
Seafood* Cobb Salad

sumac buttermilk dressing

$29.00
Baked Orecchiette

house sausage, broccoli rabe, acron squash

$27.00
Short Rib Rice Bowl

crispy poached egg, pickled vegetables

$27.00
Maine Lobster & Shrimp Roll

crispy bacon, herb aïoli, kettle chips

$28.00
Harissa Spiced Swordfish* Skewers

cucumber-fennel slaw, crispy chick peas, yogurt

$38.00
Cedar Plank Roasted Faroe Island Salmon*

vegetables from the market

$34.00
BWG Cheesesteak Sandwich

NY strip*, american cheese, onion rings

$26.00
Ocean-Brined Sullivan Farmhouse Chicken

nori whipped potatoes, soy braised mushrooms

$25.00
Great Lakes Cheddar Burger*

Certified Angus Beef, Neuske's bacon, potato roll

$24.00
Line To Lunch

simply prepared fish*, market vegetables

Location: Blue Water Grill 31 Union Square West (212) 675 9500